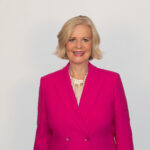 Gain more production from coaching and training your agents more effectively. From her three+ decades as a real estate practitioner, Carla Cross has built a reputation as the contemporary authority on creating exceptional productivity and profits from people. She has shared her systems for peak productivity through presentations, books, and resources to thousands of real estate professionals.
Business planning expert:
Carla was chosen to write the only internationally published business planning book for real estate professionals. It has become the basis for several business planning courses she's written for the largest real estate franchises in the world. In addition, her internationally-published start-up business plan, Up and Running in 30 Days, is used by hundreds of thousands of new real estate practitioners all over the world to start their businesses right.
Carla can truly say she's 'gone international, because, she was the featured speaker for the Realtor associations of Australia and New Zealand. She is the President and founder of Carla Cross Seminars, Inc., Cross Institute, and Carla Cross Coaching.
An acknowledged productivity expert:
Appearing on CNN, MSNBC, and dozens of radio programs, Carla has written hundreds of articles for newspapers, newsletters, and real estate magazines. She's also been featured as a real estate expert in Cosmopolitan! (no, not the cover!) A a presenter at 16 National Association of Realtor Conventions she uses her unique systems, humor–and even the piano (she's a musician, too….) to demonstrate unique principles.
Carla was named a National Association of Realtors Educator of the Year
A Washington State Realtor Educator of the Year
Former master level CRB instructor, instructor of the Certified Real Estate Broker designation; author of several CRB Managers' Courses, including the business planning course
Products have been endorsed as best of their kind by the Managers' Council of the Association of Realtors and by CRS, the Certified Residential Specialist council
Writer: sales and management training programs for large real estate franchises in the United States and abroad, including Re/Max Eastern Canada, Re/Max Europe, Re/Max Israel, Better Homes and Gardens, GMAC, Royal LePage, Keller Williams Realty, and Windermere Real Estate.
Popular Real Estate Author:
The author of 8 internationally published real estate books, Carla is the creator of these popular programs for agents and managers, systems to increase productivity and profits:
For Agents:
For Managers and Trainers:
Knock Their Socks Off: Tips to Make your Best Presentation Ever, tips to present successfully to one or one thousand
Your Blueprint for Selecting Winners, a complete selection guide with interview packet
The Complete Recruiter, the whole system and process to build a great recruiting strategy
Coaches Corner, the coaching companion to Up and Running in Real Estate. Get the biggest coaching impact from training/coaching your new agents
See all our resources at www.carlacross.com.